Summary
Innovation : To promote and value the birth of girls to create an overall change in the mindset of the community
Duration : Monthly
Location : Anganwadi Centres in Lakhisarai, Bihar
Key Stakeholders : District Administration, District Magistrate, Department of Women & Child Development, Anganwadi Workers, Parents of Daughters.
Brief Description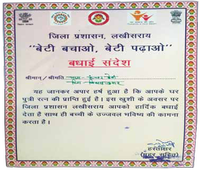 The District Task Force (DTF) in November 2018 under the chairpersonship of the District Magistrate of Lakhisarai decided the need to celebrate the birth of girls by greeting the parents of new-born girls with a 'Badhai Sandesh' in printed greeting cards. As the activity is organized to promote the birth of girls, a strong message is sent to community members about the value of girls. The idea conceptualised by the District Magistrate promotes Anganwadi Centres as the location of the celebration of 'Kanya Janmotsava' on the eve of 'Annaprashan Diwas', which is organised on the 19th of every month. Medical officers at the Primary Health Centre level have been given the duty of passing on the 'Badhai Sandesh' of the birth of girls during the 'Kanya Janmotsava' event. Information regarding schemes that promote the empowerment of girls are included in the 'Badhai Sandesh' like Mukhya Mantri Kanya Utthan Yojna, Sukanya Samridhi Yojna, ending child marriage and dowry etc. In order to promote this event, signature boards, pledges, pamphlets, banners, hoardings, etc. have been distributed for awareness generation and community participation.
Factors contributing to success
The District Administration with the support of the Department of Women & Child Development has actively facilitated the success of this initiative. The media has also been a huge source of support in having raised awareness about this activity.
Outcome, Benefits & Impact
A powerful message about the value of the Girl Child is being sent to people on a large scale through the initiation of this activity. Till date, 83 participants have been sensitized. The parents of the girls feel a sense of pride and honour on receiving 'Badhai Sandesh' cards. As this activity involves community participation, it would definitely change perceptions about the Girl Child and prove beneficial in meeting the overall objectives of BBBP. Moreover, wide publicity through positive media interventions and the active support of key stakeholders like Anganwadi Centres will contribute to a change in the community's mindset at large. Other Districts in the State have appreciated this innovative activity and plan to replicate it in their own Districts.
Challenges and Future Prospects
Stakeholders need to be sensitized so that they can effectively and enthusiastically participate in this activity in order to convey BBBP's message on a large scale. The next step of this initiative is to involve other Districts that have appreciated the success of this initiative and scale this activity.