Summary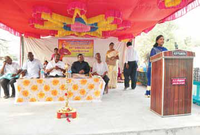 Innovation :To promote ending child marriage through a mascot, 'Nandhini'
Duration : 2017 Onwards
Location : Thiruvannamalai, Tamil Nadu
Key Stakeholders : District Collector, Anganwadi Workers, Anganwadi Supervisors, Child Development Programme Officers, District Women's Empowerment Office, District Programme Officers, Other Government Departments, Adolescent Girls.
Brief Description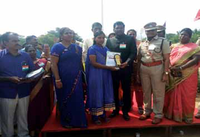 Ms. Nandhini, a resident of Thiruvannamalai District, self-reported her child marriage. She received a State level award in Tamil Nadu on National Girl Child Day (2017). She was chosen to be the face of the anti-child marriage awareness campaign in Thiruvannamalai. Initially, Nandhini's story was promoted in the Summer Festival of 2018 at one of the stalls of the Department of Social Welfare through a banner in order to raise awareness. Nandhini was also invited to the Lal Bahadur Shastri National Academy of Administration on two occasions in 2018 to share her experiences to trainees of the Indian Administrative Service (IAS). She has also taken part in promoting signature campaigns for Beti Bachao Beti Padhao (BBBP) with her photo and message to the public in hoardings. Nandhini has been felicitated at Rotary Club events, school programmes and the District Administration's events.
Awareness about Nandhini's story is being further strengthened through banners, hoardings and talks, with the sole objective of ending child marriage.
Factors contributing to success
The main factor contributing to the success of this initiative is the recognition of Nandhini by the State through an award initiated by the Department of Social Welfare. She has been also awarded by the Chief Minister of Tamil Nadu on National Girl Child Day (2017) for her courage and steadfastness to battle out the evils of child marriage.
Direct involvement of the District Collector and the Principal District Judge of Thiruvannamalai in promoting her story for the cause of ending child marriage has been noteworthy. Several schools have felicitated her achievement. The recognition of her achievement and promotional activities that raise awareness about her story by the Department of Social Welfare have further contributed to the success of this initiative.
The involvement of the TDH Core Trust, an NGO that provides for her care and protection by supporting her participation in events has equally contributed to the success of this campaign.
Outcome, Benefits & Impact
As a rural District that has deep rooted beliefs in child marriage, it is clear that the community in the Thiruvannamalai has been stirred up and continues to be sensitized about the good cause to end child marriage. The major outcome of this campaign has been sensitization of more than 1 lakh public school children and teachers. Young girls have become courageous by lending their voices to stop their own child marriages, in order to pursue study. Calls have been received directly from girls at the District Collector's and Principal District Judge's office. Calls on Childline have also steadily increased.
Nandhini, the mascot for ending child marriage in Thiruvannamalai, currently studies in class eleven. Rigorous intervention in promoting her story has created a ripple effect.
Challenges and Future Prospects
One of the main drawbacks faced is when girls call the District Administration/Principal District Judge's office, they are reluctant to reveal their names and details. Consequently, little can be achieved in an efficient manner within a short span of time following such distress calls from girls.